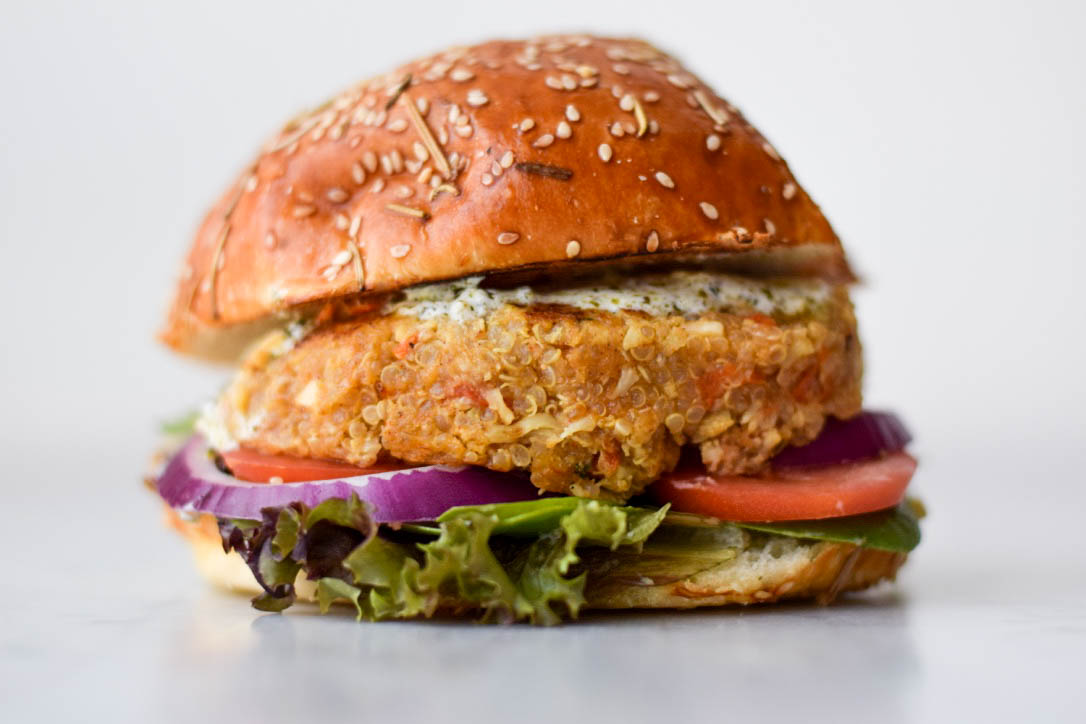 The sun is here, the temperature is climbing and the patios are filling up: it truly is BBQ season! Among the many popular summer dishes, hamburgers are one of the best. For a variation on the classic beef or chicken, I would suggest these delicious vegetarian burgers filled with veggies and flavour.
Ingredients
½ cup quinoa, rinsed
1 cauliflower
½ tsp smoked paprika
½ tsp chili powder
2 tbsp olive oil
1 carrot, grated
1 garlic clove, minced
2 eggs
¼ cup panko bread crumbs
Salt and pepper, to taste
Directions
Preheat the oven to 400F
In a small saucepan, cook your quinoa according to the instructions on the box. Drain and squeeze out the extra water from the quinoa.  Let it cool.
Chop the cauliflower in very small pieces and spread them out on a baking sheet lined with parchment paper. Add 15 ml of oil and the spices and mix well. Bake in the oven for 20 minutes or just until the cauliflower is grilled.
While this is happening, cook the garlic and grated carrots in 15 ml of oil in a nonstick pan over medium heat. Add salt and pepper.
In a big bowl combine the quinoa, grilled cauliflower and cooked carrots. Add the eggs, breadcrumbs and mix well.
Using your hands, form 4 patties. Add a bit of oil to the pan you used earlier and cook your patties over medium-high heat.
Tricks
Burger patties that contain vegetables tend to crumble. To avoid a disaster, you have to make sure all you integrate ingredients that make the patty "stick" together, such as eggs, pureed veggies, bread crumbs, oats or flour for example.  Since they will still be fragile, it's recommended to cook them on a pan or in the oven instead of on the BBQ.
Toppings
For something different than your classic mustard, I would suggest mixing plain yogurt with pesto for a low fat version of a pesto mayo. You could also pile your patty with avocado slices, lemon juice and cilantro or even tzatziki.   And don't be shy to add a ton of veggies!
Bon Appetit
Written by Marie-Ève Caplette, Registered Dietitian and Half Your Plate Campus Ambassador