With the arrival of fall weather there's nothing like a hearty soup is to make you feel cozy. Well, maybe a woolly sweater, but you know what I mean!
This Asian inspired chicken corn soup recipe takes me back to my childhood when we would visit my extended family in Bangladesh during summer vacations. Each trip was marked with a family outing to a Chinese restaurant. My gaggle of aunts, uncles and cousins would occupy a large portion of the restaurant and eagerly await a sumptuous Asian feast. Guess what my favourite soup was?
What I love about this soup is it fills "half your plate" with delicious vegetables (about 1.5 to 2 servings of vegetables depending on how much you eat). And there's enough hunger-busting protein to make it a full meal. Leftovers, should you have any, are perfect for lunch the next day. And, using fresh, sweet corn means adding an element of local love to your meal. Feel free to can use frozen corn during the off season.
My first attempt at making this soup was a bit bland and lacked a certain umami. Instead of poaching the chicken in broth, I sautéed it in canola oil. I also added carrots and mushrooms for a punch of flavour and colour. Also, it doesn't hurt to have a few extra veggies in your soup.
Corn 101:
The Recipe:
Asian-style chicken corn soup
Serves 4 to 6.
What you need:
3 cobs of fresh local corn (approx. 3 cups)
1 tbsp canola oil
6 boneless, skinless chicken thighs, cut into 1" pieces
2 tbsp minced garlic
1 cup sliced carrots, approx. 3 medium (cut diagonally)
1 cup sliced cremini mushrooms, about 3
3 green onions, chopped (save some green ends for garnish)
6 cups no salt added chicken broth
2 tbsp sodium-reduced soy sauce
2 tbsp cornstarch
2 eggs, beaten
Salt, pepper to taste
Sriracha (optional)
How to make:
1. In a large pot of boiling water, cook corn cobs for 5 minutes.
2. While your corn is boiling, prep your ingredients.
3. After corn is boiled, remove and cut kernels off lengthwise, and set aside.
4. In large pot or Dutch oven, heat canola oil over medium heat.
5. Cook chicken until browned, approx. 5 to 7 minutes.
6. Add garlic, carrots, mushrooms and green onions, and cook for 5 minutes. Your kitchen should be smelling really great by now!
7. Add chicken broth, cover pot and bring to boil.
8. Dissolve cornstarch into soy sauce. Add to boiling pot, stirring well.
9. Add egg mixture while stirring. You'll notice that the eggs will cook up into threads.
10. Add your corn and cook for another 2 minutes.
11. Adjust salt, pepper to taste.
12. Serve it up! Garnish with green onion tops. Add a dash of sriracha hot sauce if you like your meals with a bit of kick!
This is a super fast recipe if you use leftover cooked chicken and cooked corn. Just add your pre-cooked protein to the soup after adding the broth. You can also freeze this soup for up to two months – perfect when you need a quick meal on those hectic days.
What's your favourite corn soup recipe?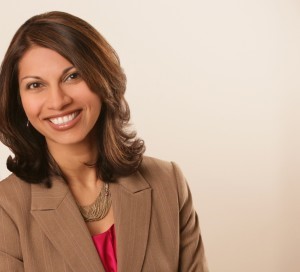 Twitter @food4happiness
Blog: www.food4happiness.ca
Nutrient analysis (per serving, based on four servings)
Calories: 394 calories
Fat: 16 grams
Protein: 39 grams
Carbohydrate: 27 grams
Fibre: 3 grams
Sodium:  532 mg (this number is based on sodium reduced broth, and will be a lot less if using no-salt added broth)