With the hustle and bustle of the holiday season, I'm always looking for quick, satisfying meal ideas. The beautiful thing about this chickpea sweet potato stew is that you can make ahead and freeze it. After a hectic day of power shopping, just reheat and eat. Love it.
An easy way to fill "half your plate" with vegetables, the stew also offers up a whopping 11 grams of fibre and 13 grams of protein in each serving. Talk about staying power to get you through school concerts and endless social engagements. While hearty stews typically use regular potatoes, the star of this meal is sweet potato. Did you know that sweet potatoes are in season all year round?
Sweet potato 101

When buying
Buy firm sweet potatoes without any bruises and cracks.
How to store
Store sweet potatoes in a cool, dark place for up to one week.
How to prepare
Wash and scrub well with a vegetable brush. Leave whole or peel and cut as desired. Eat raw or grate into salads. Bake, boil or microwave until tender when pierced.
Nutrition
Sweet potatoes have 10 times as much vitamin A as a regular potato. A medium sweet potato has 4 grams of fibre. It's also a source of potassium and magnesium.
Chickpea sweet potato stew with barley
Serves 4 to 6.
What you need:
1 tsbp canola oil
4 garlic cloves, minced
1 tbsp minced ginger
1 small onion, diced
1 tsp coriander
½ tsp cinnamon
½ tsp turmeric
½ tsp paprika
1/8 tsp cayenne (optional)
1 medium sweet potato, cut into ¼" cubes (approx. 2 cups)
1 540mL can of chickpeas (rinsed, drained)
½ cup pot barley
1 plum tomato, chopped
3 cups no-salt added chicken broth
½ tsp salt ( or to taste)
1 cup frozen peas, thawed
5 prunes, cut into quarters
2 tbsp lemon juice
Plain Greek yogurt and cilantro (garnish)
 How to make:
In large pot or Dutch oven, heat canola oil over medium heat.
Cook ginger, garlic, onion and spices for 3 minutes.
Add sweet potato, chickpeas, barley and tomato. Cook for 2 minutes.
Add broth and salt (if using a salted broth, you won't need the salt).
Cover and bring to a boil. Reduce heat to medium low. Cook for 35 minutes, stirring occasionally.
Add peas and prunes. Cook for 5 minutes. Add water or broth if stew becomes dry.
Add lemon juice after heat is turned off.
Ladle into bowls, and top with plain Greek yogurt and chopped cilantro.
How have you used sweet potato in a stew?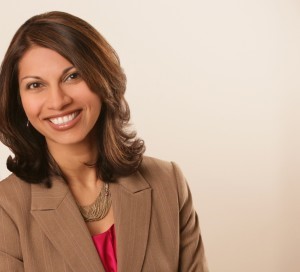 Zannat
Twitter @food4happiness
Nutrient analysis (per serving, based on five servings)
| | |
| --- | --- |
| Calories: | 309 calories |
| Fat: | 4 grams |
| Protein: | 13 grams |
| Carbohydrate: | 57 grams |
| Fibre: |  11 grams |
| Sodium: | 599 mg (this number is based on sodium reduced broth, and will be a lot less if using no-salt added broth) |