by Sarah Remmer, RD
Here are 12 simple (but delicious) lunchbox ideas that are easy to prepare, fun to eat and jam-packed full of nutrition, from a dietitian and Mom!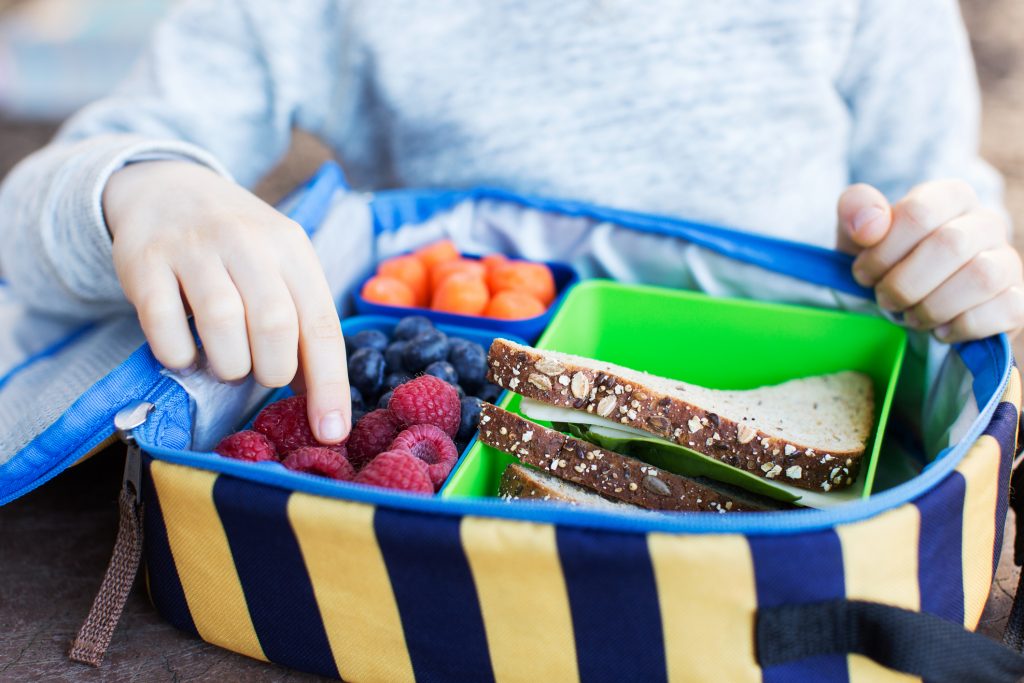 It's back-to-school season and we all know what that means… lunch packing! Perhaps not one of our most treasured parenting tasks, but one that is important and, well, essential. Our kids need proper nutrition during their school days to focus, concentrate, play, and succeed. Making sure that they have a variety of foods in their lunch will not only give them energy and brain power, but also STAYING power – a satisfied tummy, stable mood, and long-lasting fuel.
As a mom of 3 I know all too well how overwhelming school lunch packing can feel. Not only do you need to think about nutrition, but also appeal (you want your kids to actually eat it!), food safety, variety, and budget. That feels like a lot to balance, doesn't it?
Don't worry – I've got you. I'm going to walk you through my "Lunchbox Rule of five", and why this streamlines the school lunch-packing process. The Rule of five is a lifesaver for me, and I have no doubt that it will be for you too! I'll also share 12 easy and nutritious kid-approved lunchbox ideas too, to get you on your way.
First things first… here's what you'll need:
Leak-proof lunch kit with compartments (or containers for different foods). Psst: make sure that you practice opening the lunch kit and container before school starts!
Washable lunch bag or kit, preferably insulated
Ice packs
Thermos (optional)
Cutlery
Your list of lunch ideas (and a well-stocked fridge and pantry)
Now… here's the rule of five!
1) Vegetables (pack at least one)
Examples:
Raw veggies, cut up
Leafy greens (ie. salad)
Frozen veggies (eg. peas)
Cooked vegetables
Homemade salsa or bruschetta
Vegetable soup
2) Fruit (pack at least one)
Examples:
Piece or fresh fruit
Berries
Unsweetened canned fruit (canned in water)
Unsweetened fruit and veggie purées
Unsweetened dried fruit
3) Protein-rich foods (pack two)
Examples:
Leftover meat, poultry, fish
Canned fish
Eggs
Milk
Yogurt or Greek yogurt
Cottage cheese
Cheese
Beans/Lentils
Seeds or seed butter
Tofu or tempeh
4) Whole grain or starchy vegetable (include at least one)
Examples:
Whole grain bread, tortilla, or pita
Whole grain crackers
Whole grain homemade granola bar or oat-based energy bite
Homemade muffin or loaf made with whole grain flour or oats
Oatmeal
Whole grain pancake, waffle, or French toast
Leftover brown rice, quinoa, barley
Corn
Potatoes/sweet potatoes/yams
5) The "just because food" (include one small portion)
Examples:
Cookie
Brownie
Pudding
Gummies
Licorice
Chocolate
It's important to send the message to kids that all foods can fit, and even if a food doesn't provide a lot of nutritional value, it can add fun to their lunch and help them to become calmer around these foods in the long run. To help combat diet culture in schools, it's important to remember that it's the parent's job to decide what is packed in the lunch, the child's job to decide which foods to eat (and in which order) and the teachers' job to decide when and where the lunch is eaten
Don't forget about "half your plate":
Ideally, your child's lunch would follow the "half your plate" guideline, which means that about half of their lunch would consist of fruits and veggies. Not only does this mean that their lunch will be chock full of nutrients, but it also means lots of colour (which makes it more fun!)
Need some ideas? I've got you!
Here are 12 lunchbox ideas:
Leftovers
Leftover spaghetti and meat sauce + raw snap peas + unsweetened fruit sauce + whole grain granola bar
Leftover taco salad (meat + fixings like cheese, salsa, lettuce, crushed taco shell) + apple + homemade wholegrain muffin + Greek yogurt
Leftover lentil soup + whole grain crackers + fresh blueberries + carrot sticks + hummus + cheese
Brekkie for lunch
Leftover French toast + Greek yogurt for dip (Greek yogurt + seed butter + chia seeds or hemp hearts + cinnamon) + sliced peach + cucumber strips + dip
Homemade flourless zucchini blender muffin + leftover breakfast sausage + banana + chia pudding + assorted raw veggies
Build-your-own Greek yogurt parfait (Greek yogurt + whole grain granola + sunflower or pumpkin seeds + berries) + Fruit/Veggie pouch + homemade granola bar
Lunchbox-ables
Whole grain crackers + cheddar cheese cubes + lengthwise sliced grapes, raspberries + snap peas + dip + roasted chickpeas + protein/energy ball
Sliced hardboiled egg + whole grain waffle strips + yogurt to dip + watermelon sticks + carrots + cucumber + dip
Tortilla "sushi" (whole grain tortilla with either seed butter or cream cheese + fruit, wrapped up and sliced into bite-sized pieces) + raw veggie strips + hummus + apple slices + Greek yogurt to dip
Sandwiches/Wraps
Whole grain tortilla wrap with leftover meat, cheese, spinach + unsweetened fruit sauce + leftover broccoli salad + homemade whole grain banana loaf
Tuna salad or egg salad sandwich on whole grain bread + fruit salad + snap peas + homemade protein/energy ball
Crackerwiches (whole grain crackers + deli meat + cheese) + leftover roasted veggies + roasted chickpeas + homemade whole grain muffin + milk
---
About Sarah: Sarah Remmer, RD is an award-winning registered dietitian, and mom of 3. She is the founder and President of the Centre for Family Nutrition, based in Calgary, Alberta, and co-author of Food to Grow On: The ultimate guide to childhood nutrition from pregnancy to packed lunches. You can find hundreds of blog post and recipes geared towards parents and busy families on her blog: SarahRemmer.com