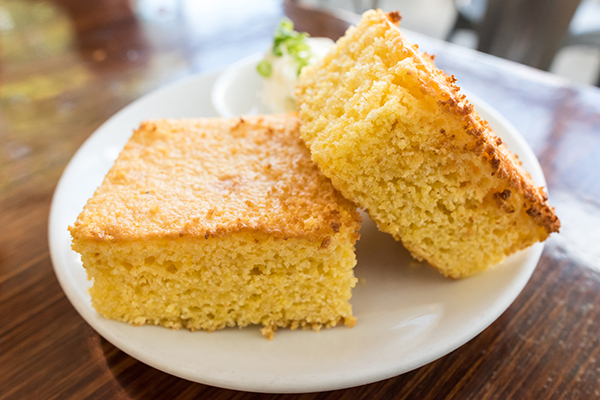 Blog post written by Quick Easy Cook
Corn, also known as maize, was first developed by people living in central Mexico over 7000 years ago. Native American people throughout North and South America relied on the corn crop as a vital part of their food supply. Corn was first introduced to Europe by Columbus's who returned with the gain to Spain after his men discovered the vegetable growing in Cuba.
The crop was quickly introduced to other countries and successfully spread across the world. Corn is a nutritious, versatile and healthy vegetable with a sweet favor. Corn also contains Vitamin B and Vitamin C that help assist in maintaining a healthy body.
Corn can be stored easily in the cupboard at home in a can or in the freezer allowing meals to be prepared quickly and with convenience. The following recipes are 5 simple and easy meals which can be made using canned or frozen corn.
Cornbread
There are few smells better than filling the house with the beautiful sweet aroma of freshly baked bread. This heavenly divine cornbread is prepared with canned or frozen corn and will be ready to enjoy with the family in less than an hour.
The Ingredients 
1 cup corn frozen or canned
1 cup all-purpose flour, sifted
1 tablespoon baking powder
1 teaspoon salt
2 eggs beaten
1 cup cornmeal (polenta)
1 cup milk
¼ cup of butter
2 tablespoons caster sugar
60 ml ¼ vegetable oil
honey, to serve
Olive oil, to grease
The Method
Step 1: Preheat the oven to 220 Celsius or 428 Fahrenheit. Lightly grease an 11 x 22 cm loaf pan with olive oil, lightly dust with flour and shake out the excess.
Step 2: Sift the flour, baking powder, and salt into a bowl. Add the cornmeal, sugar, milk, oil, and egg. Stir with a wooden spoon until well combined.
Step 3: Pour the mixture into the prepared pan. Bake in preheated oven for 25-30 minutes or until a skewer inserted into the center comes out clean. Set aside for 5 minutes before turning onto a wire rack to allow to cool. Serve warm or at room temperature drizzled with honey.
Corn Fritters
Corn fritters make a wonderful crunchy snack and can be served with breakfast, lunch or dinner.
The Ingredients
2 x 420g cans of corn kernels drained
1 cup of self-raising flour
2 eggs
1/3 cup of milk
2 tablespoons chopped chives · 100g feta cheese
30g piece cold butter
1 small avocado, cut into small wedges
The Method:
Step 1: Place flour into a large mixing bowl and make a well in the center. Use a fork to whisk eggs and milk together in a jug and gradually pour into flour, stirring gently to combine.
Step 2: Fold in the corn, chives, and feta. Do not over-mix or the fritters will become tough.
Step 3: Wrap butter in a piece of paper towel. Heat a large frying pan over medium head and wipe with butter to grease. Drop ¼ cupful of a mixture into the hot pan, Cook in batches for about 2-3 minutes until golden brown underneath, then turn over and cook the other side. Repeat until all fritter mixture is used.
Step 4: Serve fritters with sweet chili sauce, avocado, and rocket.
Chinese Corn and Chicken Soup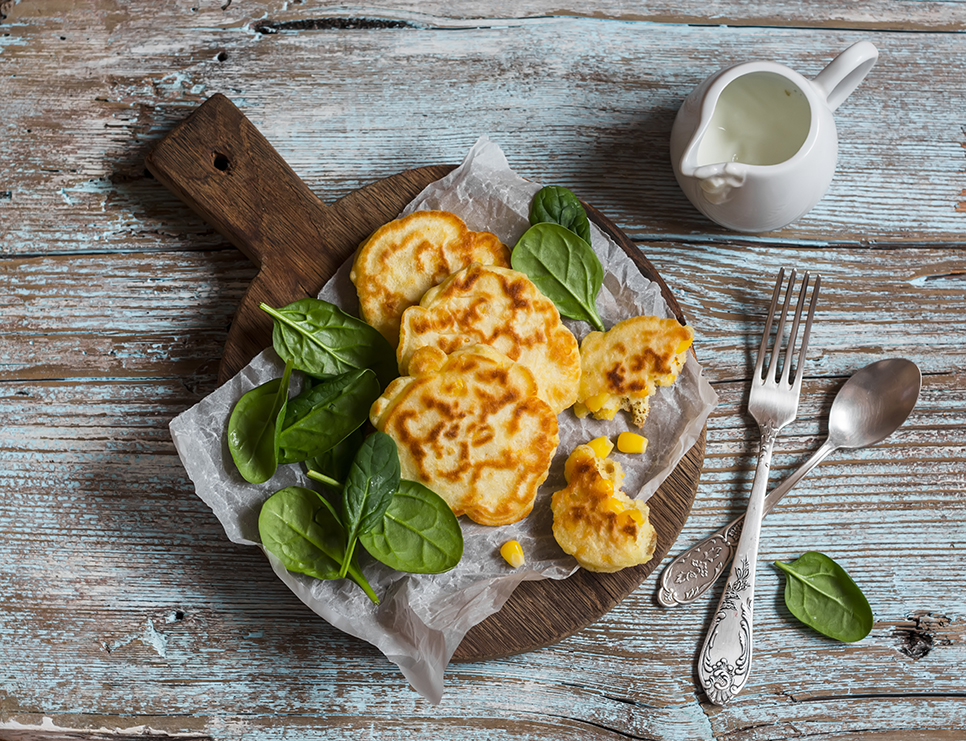 This is a Chinese inspired meal, which can be made quickly and frozen into portions for use at another time.
The Ingredients
2 x 410g cans of creamed corn
1 liter of chicken stock
2 tablespoons of Chinese cooking wine (Shao Hsing)
1 tablespoon soy sauce
1 small piece fresh grated ginger
2 garlic cloves crushed
2 cups cooked chicken shredded
3 eggs, lightly beaten
1 green onion, sliced
Steamed Chinese broccoli to serve
Method
Step 1: Place the stock, stir the fly sauce, Chinese cooking wine, soy sauce, ginger, garlic and creamed corn into a large saucepan over high heat. Stir to combine the ingredients and slowly bring to the boil.
Step 2: Cover with a lid and reduce heat to a low simmer for 6 minutes.
Step 2: Blend cornflour with 2 teaspoons water until smooth before adding to the soup. Stir and allow to simmer for 2 minutes until the soup slightly thickens.
Step 3: Add the chicken and stir to combine. Gradually add egg, stirring constantly.
Step 4: Season with salt and pepper. Sprinkle the soup with the green onion and serve with the Chinese broccoli.
Chilli Corn Dip
This is a perfect little snack to serve when entertaining friends and is remarkably cheap and easy to make.
The Ingredients
3 cups frozen or canned corn
1 cup of sharp cheddar cheese
2 cups mayonnaise
cup of roasted red capsicum (red bell peppers)
¼ cup chopped green chilies (canned or fresh)
1 tablespoon of fresh red chilies
1 cup of grated Parmesan cheese
The Method
Step 1: Combine all ingredients together in and bowl and mix well.
Step 2: Spread evenly in the casserole dish and bake 45-60 minutes until the top is golden.
Step 3: Serve with tortilla chips.
Corn, Ham and Vegetable Casserole
Perfect for colder nights this corn, ham and vegetable casserole is also a great way to get an extra serve of vegetables while enjoying some good old fashioned comfort food.
The Ingredients
1 cup of corn, drained
1 cup shredded ham
2 cups of mixed vegetables (fresh, frozen or canned)
1 cup finely chopped celery
cup finely chopped yellow onion
cup salted butter, divided
cup of grated cheese
cup of mayonnaise
1 sleeve of crackers crushed (Ritz works well)
The Method
Step 1: Preheat the oven to 180 degrees Celsius or 350 degrees Fahrenheit
Step 2: Melt half of the butter over medium heat in a saucepan and cook the celery and onion together until softened, about 8 to 10 minutes. Remove from the heat and transfer to a large bowl.
Step 3: Add to the bowl the corn, mixed vegetables, cheese, and mayonnaise and stir to combine.
Step 4: Transfer the mixture to a square casserole dish and sprinkle the crushed crackers over the top covering it. Melt the remaining butter and drizzle over the top.
Step 5: Bake until golden brown about 30 to 40 minutes. Allow sitting for 10 minutes before serving.
About the Author Lita Watson:
Hi there! I'm Lita, voice of Quick Easy Cook and I'm absolutely in love with cooking blogs. I'm a beginner in cooking and i try my best to make it quick and easy. Even though, it's not always quick and easy to keep up with fancy dinners… so i keep learning and blogging about quick and easy ways to create delicious and yummy foods for my two kids and a wonderful husband.