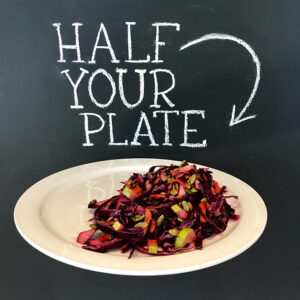 The beautiful colour of red cabbage, our vegetable for February, will attract any shopper!  Go ahead and put that delicious veggie in your shopping cart and follow our easy steps for making sure you bring home the best one.
Red cabbage should be a dark red-purple colour. Choose one that's firm and vibrant with unblemished leaves. Choose leaves that are crisp and tightly pressed to the stem.
When you get home, store the whole head of cabbage in a perforated plastic bag in the refrigerator crisper.  It should keep for about 2 weeks. Once you cut the cabbage, wrap in plastic wrap and use within 2 days.
Clean your cabbage by removing the outer leaves and any others that are damaged. Cut the cabbage head so that you can easily remove the core and the stem.  Wash under cold water. Cabbage can be easily shredded by cutting it in half and slicing thinly.  Raw cabbage is easily grated.
If you're making cabbage rolls, remove the core of the cabbage and blanch the whole head of cabbage in boiling water until the leaves become soft and pliable and easy to roll. Other methods to try to soften the leaves are core the cabbage and then: 1) freeze the cabbage head at least over night and let thaw; or 2) place cabbage head in the microwave with a small amount of water, cover and cook on high for 15 minutes.
Red cabbage is good eaten raw or boiled, steamed, braised, stir-fried, sauteed or baked.
Red cabbage takes slightly more time to cook than green cabbage since its leaves are a little thicker.
Another tip is to cook red cabbage with acid ingredients such as lemon juice or wine vinegar to help preserve its beautiful colour.
Try one of our favourite red cabbage recipe:
Red Cabbage Salad with Cranberry Vinaigrette, Apples & Pumpkin Seeds from #halfyourplate Ambassador Chef Michael Smith.
Red cabbage is available year-round but is locally available during the late summer, fall and winter months. Red cabbage is an excellent source of Vitamin C, high in Vitamin A and a source of fibre and potassium (per 100g).
What are your favourite ways to use beautiful red cabbage?