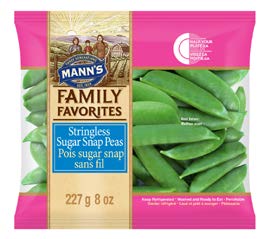 Look out for Half Your Plate logo on this new packaging!
Mann Packing has supported Half Your Plate initiative since its inception and is now further showing support through the addition of the logo on Mann's signature bags of Sugar Snap Peas.
"Half Your Plate is fun, practical and informative while providing tips on how to prepare fruits and veggies using different colours, flavours and textures for meals and snacks at home, at school, at work, eating out or on the go," said Kim St George, Director of Marketing & Communications. "For taste, for convenience, or for budget, we want to show Canadians how easy it is to fill half their plate at every meal and snack."
Mann's 227g (8oz) bags of Sugar Snap Peas with the Half Your Plate logo will be on grocery stores shelves throughout Canada in October.
In honour of this great addition we want to give you a couple great snap pea recipes!
Thai Basil Stir Fry from Manns
Simple Stir Fry with Cauliflower "Rice"
We want to hear some of your favourite snap pea recipes. Send them to us today!
About Mann Packing Company
Mann Packing is located in Salinas, Calif., in the heart of America's salad bowl. Mann's carries the distinguished certification by the Women's Business Enterprise National Council (WBENC)—the most widely recognized and respected certification in the United States for women's business enterprises.
An industry leading, third-generation supplier of premium fresh vegetables—including commodity products and fresh veg mixes, dishes and salads—Mann celebrated its 75th anniversary in 2014.