Nice cream is the vegan version of ice cream made out of frozen bananas. Not only is it a great way to use up those ripe bananas taking up room in your freezer, this nice cream is refreshing and void of all added sugars or dairy products.  It's a nutritious dessert with whole fruits not just the juice from them.
Ingredients
1 frozen banana
½ cup frozen mangoes
½ cup pineapple, diced
1 tbsp lemon juice
½ cup coconut milk
1 tsp shredded coconut, sugar free, as garnish (optional)
Directions
Blend all the ingredients (except for the coconut) in a food processor or blender and pour into a freezer safe bowl.
Remove the nice cream and stir it with a spatula. Put it back in the freezer and repeat this step every 30 minutes or until the nice cream has the consistency you like. (I usually take 2 hours)
Garnish with the coconut (optional) and serve in a bowl or cone.
A few tips for a succesful nice cream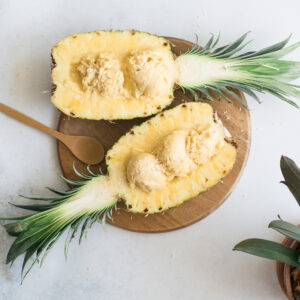 Use really ripe frozen bananas
The nice cream  will really harden if you leave it several hours in the freezer. To get a softer texture zap it for a few seconds in the microwave before eating.
Coconut milk is not required for the recipe however it does give a creamy texture that's close to real ice cream.
Have you tried making nice cream?  
Which one is your favourite recipe?
Written by Marie-Ève Caplette, Registered Dietitian and Half Your Plate Campus ambassador