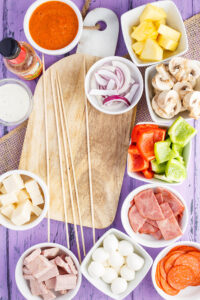 Summer is all about staying cool, eating well, and keeping it simple!
Growing up, my mom refused to cook three different meals for her three kids. And as I have gotten older, I totally agree!!! With my husband and daughter eating meat, and myself living a vegetarian lifestyle, I began to dread cooking two different meals each day.
Then I started getting creative Now I create one recipe that can easily add meat or take it away! They are down for eating vegetarian with me, but like the option of adding in what they want.
These raw pizza kabobs fit all that above criteria!
They are kid-friendly and the assembly allows for customization all around. Perfect for picky eaters, dietary restrictions, and those just looking for a fun appetizer.
Besides the homemade pizza sauce, there is little to no cooking (I used leftover ham and pre-cooked potatoes, turkey bacon, and pepperoni.) Perfect when trying to beat the heat AND use up leftovers
PS: Even picky eaters are more inclined to eat their veggies if they "cook" their own meal, so let your children put together their own kabobs! They just may surprise you!
Serves: 10 (depending on size, ingredients used, etc.)
Prep Time: 25 minutes
Cook Time: 15 minutes
Total Time: 40 minutes
Ingredients:
Sauce:
2 lbs fresh tomatoes, cored and roughly chopped
3 tbsp. olive oil
3 tbsp. tomato paste
Salt and pepper
1 tsp. granulated sugar
1 ½ tsp. dried oregano
1 ½ tsp. dried basil
½ tsp. dried parsley
3 garlic cloves, paper removed and left whole
Dash of crushed red pepper flakes
Kabobs:
1 red bell pepper

1 green pepper
1 pint cherry tomatoes
8 oz button mushrooms
¼ of a fresh pineapple
¼ lb turkey bacon slices
100 g turkey pepperoni
1 cup cooked ham OR 150 g deli style ham
1 cup cubed mozzarella cheese
1 cup fresh mozzarella cheese balls (Bocconicni)
½ red onion
½ Spanish onion
Cubed fresh bread OR cooked little potatoes (optional)
Your favourite pizza dipping sauces (ranch, blue cheese, garlic, etc.)
Directions:
Combine all tomato sauce ingredients into a medium-sized sauce pan. Place over medium heat, stirring occasionally until mixture begins bubbling. Reduce heat to medium-low and simmer for 15-20 minutes. Remove from heat, transfer to blender, and mix until smooth. Set aside.
Prepare toppings for kabobs by cutting your veggies into similar shapes and sizes, making sure to wash everything as you go!
Assemble kabobs by stringing vegetables, fruits, meat, and cheese onto wooden skewers. Get creative! Here are some of the combinations I went with:
Canadian Pizza – Pepperoni, Bacon, Mushrooms, and Cheese.
Deluxe Pizza – Pepperoni, Bacon, Mushrooms, Green Peppers, Tomatoes, Cheese, and Spanish Onions.
Hawaiian Pizza – Fresh Pineapple, Cheese, Ham, and/or Bacon.
Veggie Lovers Pizza – Mix of all the Veggies and Cheeses!
Serve alongside warmed or cold pizza sauce (your choice!) and your favourite dipping sauces.
Note: Fresh bread is great here as it would represent pizza dough, but little potatoes (steamed, boiled, or microwaved) are a great alternative!
Great way to use up leftovers (think cooked ham, chicken breasts, etc.) However, deli-style meats work perfectly!
Quantity of ingredients is up to you and what your family/guests want as their toppings
Pizza sauce makes more than enough for these kabobs, so you can always use the extra for pasta, traditional pizza, or freeze it for future use!
Some other pizza topping ideas: olives, marinated artichokes, grilled chicken, sausage, sun-dried tomatoes, roasted red peppers, zucchini, feta cheese, dairy-free cheeses, and more!
Written by Half Your Plate friend The Cookie Writer