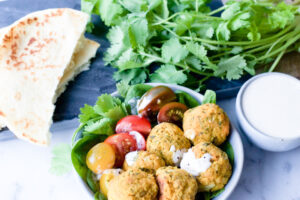 These vegetarian falafels are simple to make and will add a touch of uniqueness to your weekday dinner. Plus, they're a really easy delicious way to integrate veggies into your menu.
1 medium sized sweet potato
1 can of chickpeas (540 ml) rinsed and drained
1 small onion, peeled and cut in 4
2 garlic cloves, minced
2 tbsp of flour*
About 1 cup of fresh cilantro or parsley
½ tsp of turmeric
¼ tsp of cumin
The juice of half a lemon
1 tsp salt
Pepper to taste
Prehead the oven to 425F. Cut your sweet potato in half and place it on a pan face down. Cook until tender (about 45 minutes depending on the actual size of the potato). Let it cool and then peel the skin off with your fingers or a knife
In a blender or food processor place all your ingredients and blend until everything is chopped down equally but not until it's completely blended (we're not making hummus!). The mixture should be sticky not wet. If your mixture is too wet, add some flour to help you mold into patties.
Form little patties with your hands, about the size of a ping pong ball (a bit smaller than a golf ball)
Place your balls on a parchment paper covered tray. Brush the balls with some oil and put them in the oven.
Cook the falafels for 25 minutes or until they look golden. They will last about 1 week in the fridge or 6 months in the freezer.
*You can use chickpea flour or lentil flour for a gluten free version.
Complimenting ideas
Tahini yogurt sauce (recipe follows)
Pita or naan bread or tortilla
Lebanese cucumber slices
Halved cherry tomatoes
Tahini Yogurt
¼ cup of tahini (sesame paste)
¼ cup of plain Greek yogurt
3 tbsp water
Juice from 1 lemon
2 garlic clove
½ tsp of salt (or to taste)
Blend all ingredients together and add water until you have your preferred consistency
 Cilantro: love it or hate it?
Did you know that the taste of cilantro is partly genetic?  Because of this, some people love it, while others think it tastes more like soap or a damn kitchen towel. If you fall into that category, simply swap the cilantro for parsley.
Written by Marie-Ève Caplette, Registered Dietitian and Half Your Plate Campus ambassador