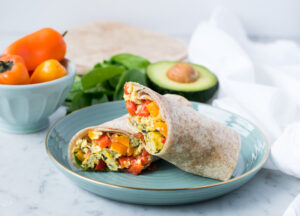 Vegetables are an important part of our healthy diet and we need to eat at least 5 portions a day.  So how do we add them to our daily menu?  An easy solution, is to make sure to include them to every meal of the day, starting with breakfast.
Veggies at breakfast?  Why not! Whether you have a sweet tooth or prefer a saltier meal, it's never too early for a portion of veggies.  Here are 5 ideas to inspire you to include veggies in the first meal of your day.
1.    Breakfast Wrap
One of the simplest ways to incorporate veggies into your meal is with eggs.  Short on time?  You can get a wrap ready in just a few minutes and then it because a grab and go meal for the road.
Recipe for 4 portions
Ingredients
8 eggs
1 tsp finely chopped herbs (Italian blend or herbs de Provence)
2 cups of cubed veggies  (for example : peppers, red onions and mushrooms)
4 large whole wheat tortillas
1 cup of mozzarella cheese, shredded
Direction
In a small bowl, beat the eggs with the herbs. Set aside.
Heat a large skillet to medium heat and cook the veggies in a bit of vegetable based oil for 5 minutes or just until tender
Add the beaten eggs and cook stirring often until you get perfect scrambled eggs.
Once the eggs are cooked, pile everything onto a tortilla and sprinkle on some cheese. Create your wrap by folding in both sides and rolling up from the bottom.
If you are packing the wraps for later you can simply reheat by zapping in the microwave for 30 seconds.
You can personalize this recipe by using whichever vegetables you have in your fridge.  For example broccoli and spinach add well to eggs.
2.    Express Omelette
If making eggs in the morning feels like too long of a process, you can make these in advance. The easiest way to do this is to cook this recipe in a muffin tin.  That way you will have individual portions of omelettes for future mornings.  They will last in the fridge for 2 days or even longer in the freezer. Try this easy muffin tin recipes.
3.    Toasts
Avocado toast is still a great trend.  For a quick and nutritious breakfast all you have to do is pop your favourite slice of whole grain toast into the toaster and top with ½ avocado sliced or mashed along with your favourite other toppings like cherry tomatoes, cheese or radishes and smoked salmon. For more topping ideas check out our past post about Avocado Toast.
Recently another vegetable is taking the place of toast: the sweet potato!  Did you know that after slicing and grilling or toasting your sweet potato it can replace your bread!  It's also a delicious way to introduce a new veggie to breakfast and a great option for those following a gluten free diet!
Directions :
Peel your sweet potato and using a very sharp knife slice them into ¼ inch thickness.
Pop your sweet potato into the toaster and keep them in there until they start to become tender. Depending on your toaster you might have to keep them in there a few times.
Add your favourite toppings. You can try ricotta cheese, strawverries and honey; hummus and tomato slices; or almond butter, bananas and cinnamon.
4.    Smoothie
Smoothies are the perfect breakfast for those who wake up with a small appetite.  It's really easy to add veggies like kale, spinach or beets to your smoothie to add a dose of nutrition.  Looking to save some time? You can make your smoothie the night before.  They'll hold up in the fridge for up to 2 days.
For some winning combinations as recipe base check out our post "Yes to Veggies in your Smoothies!".
5.    Muffins and breads
Lastly it's easy to include veggies in your bread and muffin baking.  Since veggies have a high water content they are perfect for adding a soft and moist texture to your baking without adding any fat.  Carrots, zucchini, sweet potato, pumpkin and other squash are a great addition to your muffins and breads.
Check out this fruits and veggie cake that you can bake in either a muffin tin or bread tin if that's what you've got! With an ingredient list that's got carrots, pineapples, apple sauce, eggs and nuts, this breakfast can easily be eaten as a full breakfast. Add your favourite Greek yogurt or a glass of milk to include some protein and make it a complete meal.
I hope these 5 ideas inspire you to start your journey!  If you're already including veggies in your breakfast we want to hear your favourite recipes!
Written by Marie-Ève Caplette, Registered Dietitian and Half Your Plate Campus ambassador