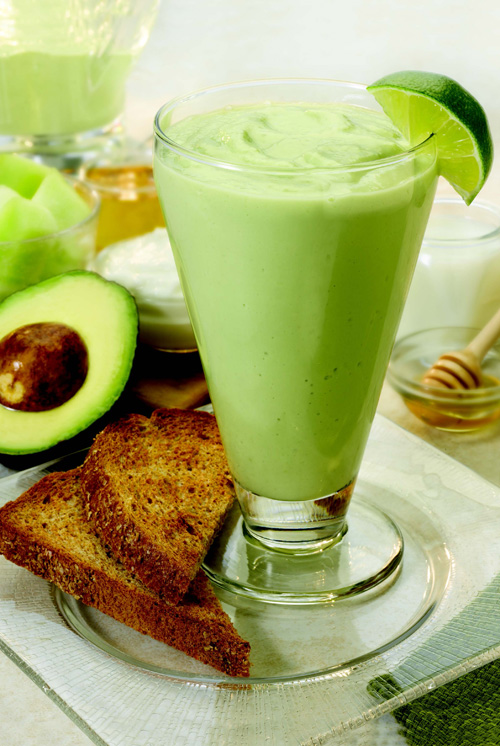 Drinking a smoothie is a great way to start your day or to keep up your energy in between meals.  We have the habit of using fruits in smoothies, but it's also delicious and nutritious to add veggies! Even though it may seem strange, once you've blended them with fruits, you can't even taste them. If you're trying veggies in your smoothies for the first time, you should start with veggies that have a milder taste like cucumbers, avocados or spinach. Here's a no fail basic recipe:
1 cup fruits
½ cup veggies
½ cup of milk, soy drink, or fruit juice
½ cup of yogurt or soft tofu
Contrary to fruit juice, smoothies contain fiber since they're made of whole fruits and veggies.  This makes you feel fuller and more satisfied, while being full of vitamins and minerals.  As a bonus, it's a perfect recipe to use up all your groceries, since you can add fruits and veggies that are starting to brown, wither or go soft.
A few combination ideas
Kiwi + banana + spinach
Strawberries + raspberries + beets
Peaches + mangoes + carrots
Banana + blueberries + cauliflower
Mango + apples + kale
Raspberries + pomegranate + cucumbers
Cherries + orange + red cabbage
If you are using fresh fruits instead of frozen ones, you can add a couple ice cubes to keep your smoothie refreshing and cold.
Healthier Green Smoothies?
Green veggies are certainly very nutritious. However, they aren't better than other colours – the key to a healthy diet is a variety! The reason green veggies are so popular in smoothies is because they add a lot of colour, vitamins and minerals without a strong taste.   Choose based on your taste preference!
This weekend, pineapples and baby spinach were on sale at my grocery store.  I took advantage of this to create a smoothie with those ingredients and the results were delicious.  For other smoothie ideas you can get inspired by this mango banana smoothie or this avocado melon smoothie.  Have fun by creating your own favourite combinations, you can't go wrong! And don't forget to share your creations!
Written by Marie-Ève Caplette, Registered Dietitian and Half Your Plate university ambassador