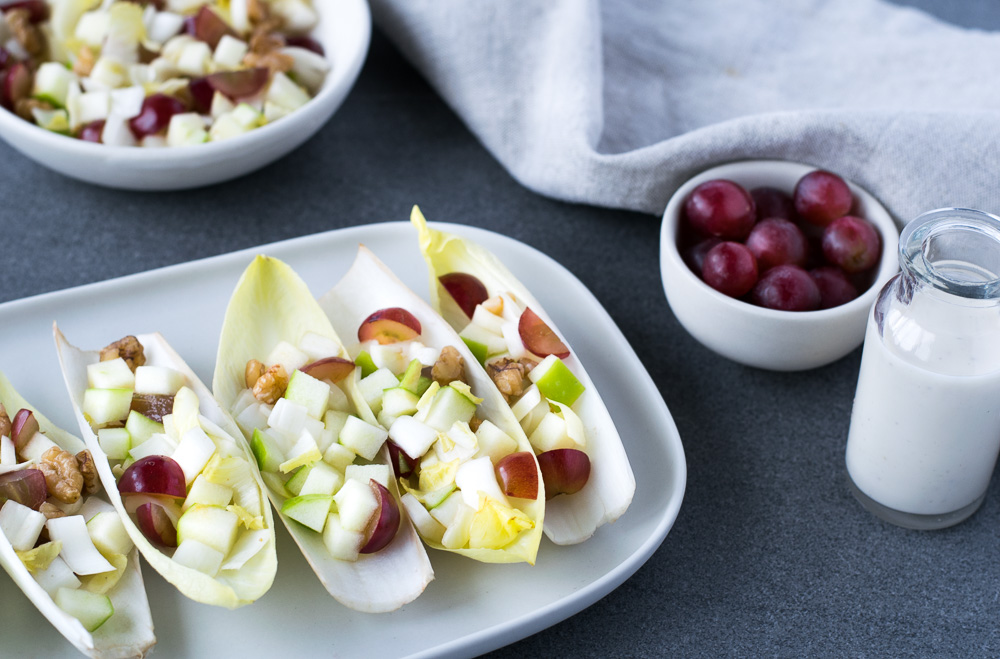 Impress your guest with this simple, fresh and healthy idea ready in less than 15 minutes. Endives can also be served alongside your BBQ. Take advantage of them while they're in season!
Dressing
3 tbsp Greek Yogurt
30 ml Apple Cider Vinegar
15 ml Maple Syrup
5 ml Dijon Mustard
Salad
4 small Endives
1 Green Apple, chopped into small cubes
½ cup of Seedless Red Grapes, cut into 4
¼ cup Walnuts, chopped
Salt and Pepper to taste
Directions
1. (Optional) Lay out the walnuts on a baking tray and bake at 400F for 5 minutes or just until they turn light golden. Set aside.
2. In a bowl, mix all dressing ingredients well with a fork or whisk. Put in the refrigerator.
3. Slice off the bottom of the endive and peel 6-8 leaves off. Set those aside.
4. Roughly chop the rest of the endives (the heart) and put them into a medium sized bowl.
5. To the bowl add the apples, grapes, walnuts and dressing. Add salt and pepper to tastes.
6. Scoop the salad into the endive leaves and serve.
Written by Marie-Ève Caplette, Registered Dietitian and Half Your Plate Campus ambassador