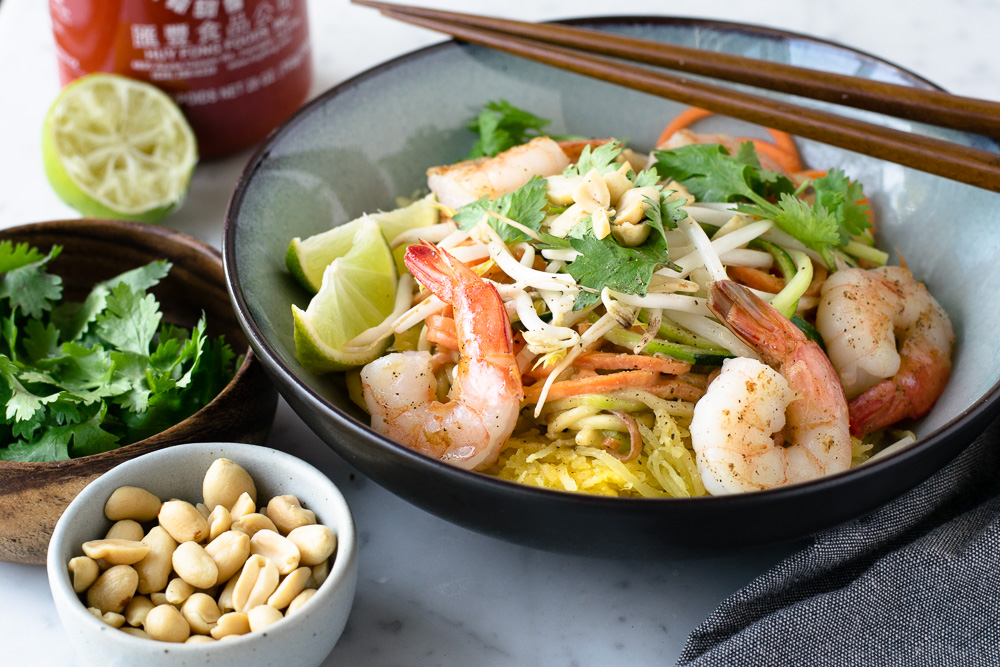 Spaghetti squash and spiralized zucchini replace the traditional noodles in this Pad Thai, which means the dish is rich in fibre and vitamins.  It's a tasty recipe filled with veggies!
The secret to a perfect Pad Thai lies in the sauce: you need to find a balance between the 5 main flavours (sweet, salty, acidic, bitter and umami) to satisfy our palate.  Challenge yourself with this simple, fast easy to make recipe.
Don't forget to share your recipe photo with us on twitter @halfyourplate and with the hashtag #halfyourplate if you give it a try!
Recipe
Makes enough for 4 people
Ingredients
For the Pad Thai
1 small spaghetti squash
1 Zucchini
1 carrot peeled
10 mL olive oil
35 cooked shrimp (1 package of 340 g large shrimp)
1 cup bean sprouts
¼ cup crushed peanuts
1 green onion, sliced
1 bunch of cilantro leaves
Sauce
1 tbsp low sodium tamari sauce (or soya sauce)
2 tbsp brown sugar
3 tbsp peanut butter
1 tsp fresh ginger, grated
½ tsp Sriracha (or more depending on your spice tolerance)
the juice of ½ lime
¼ cup low sodium chicken broth
Directions
Preheat oven to 375F *
With a very sharp knife, slice the spaghetti squash in half lengthwise. Use a spoon to scoop out the inside seeds. Place the two halves, cut side down, on a cooking tray. Cook them in the oven for 20 minutes or until you can easily pierce with a fork.  Let it cool for a few minutes and then scrape out the "spaghetti" flesh with a fork.  Set aside.
Use a spiralizer to make ribbons out of the zucchini and the carrot. Set aside.
Whisk together all the ingredients for the sauce
Heat up the olive oil in a wok or a large frying pan. Add the shrimp, salt and pepper (to taste) and cook them for 2 minutes on each side until they're pink and cooked through. Remove them from the pan and set aside.
Add the sauce to the pan and heat through for about 3 minutes.
Add the spiralized zucchini and carrots to the pan for 5 minutes.
Add the spaghetti squash and mix thoroughly. Add the shrimp and cook for a bit to reheat.
Remove from heat and add the bean sprouts, cilantro, green onions and peanuts just before serving.
*Quick Tip: To cook your spaghetti squash in a few minutes, place the halves in a microwave safe plate, face down covered in plastic wrap.  Zap in the microwave for 10 minutes.  Be careful, it will be very hot!  Using oven mitts remove the spaghetti squash and let it cool down face up.  Using a fork remove the spaghetti squash noodle like flesh.  If it doesn't come apart easily, put it back in the microwave for a few more minutes.
For a vegetarian version replace the shrimp with tofu and the chicken broth with veggie broth. It will be just as delicious!
For peanut allergy replace the peanut butter with almond butter or any other nut butter.
Written by Marie-Ève Caplette, Registered Dietitian and Half Your Plate Campus ambassador