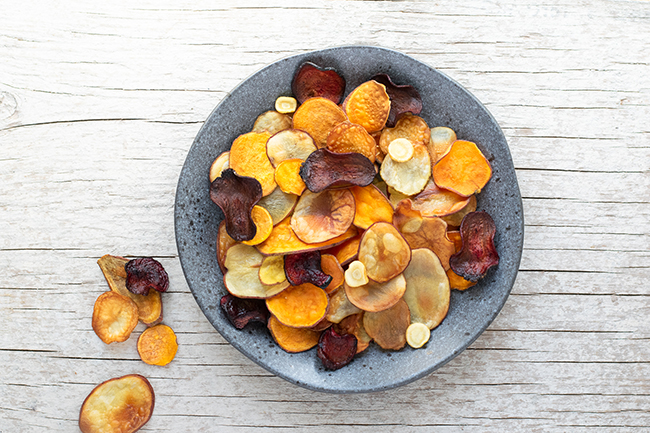 Did you know that commercial vegetable chips closely resemble regular chips? Tomato and spinach purees added to commercial chips provide more colour to the product than vitamins and minerals. For a healthier option, here's a guide to making real vegetable chips at home!
Ingredients
454 g (1 lb) root vegetables (parsnips, red or yellow beets, sweet potato, potato)*
30 ml (2 tablespoons) olive oil.
Salt, pepper
*1 lb of vegetables is equivalent to about 5 parsnips or 5 beets or 3 sweet potatoes or 2 potatoes or a mixture of all these vegetables.
Preparation
Cover 2 baking sheets with parchment paper. Preheat the oven to 350F.
Wash and brush the vegetables (you can also peel them, personally I prefer to keep the skin).
Using mandolin, cut vegetables into thin slices.
Place the slices in a large bowl and salt. Leave to rest for 15 minutes, so that the water releases the vegetables. Drain.
Add oil to vegetables and mix.
Spread vegetables on baking sheets in a single layer.  Add pepper.
Place in the oven and bake for 30 minutes, or until golden and crisp.
Leave to rest 5 minutes before tasting, for even crisper chips.
Tip
The secret to getting crispy homemade chips is to slice your vegetables very thinly. The thinner they are, the faster the moisture evaporates. This is also why you let them sit in salt for a bit before putting them in the oven. That way you get crisp, unburned, soft chips!
Written by Marie-Ève Caplette, Registered Dietitian and Half Your Plate Ambassador