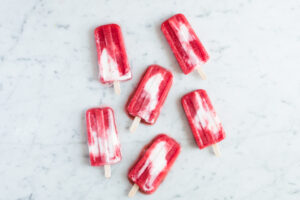 When it's hot outside, is there anything better than a popsicle to cool down? Even better, when they're made with real fruits, in this case strawberries. Take advantage while they're still in season. This easy recipe will allow you to play with your favourite fruit combinations.
Ingredients
2 cups of Strawberries, hulled
1 cup of Watermelon, cut in cubes
1 tbsp of Maple Syrup
1 cup of Vanilla Greek Yogurt
Directions
Blend the strawberries, watermelon and maple syrup into a puree. If you prefer to have fruit chunks in your popsicle roughly blitz instead of purée.
Alternating between some of the puree and yogurt, fill popsicle molds. You can carefully blend the fillings in the mold with a wooden popsicle stick to create a marble effect.
Slide a wooden stick in the center of each mold. Freeze for 2 hour or more.
To defrost easily, place the mold under running warm water for a few seconds before pulling out the pops.
Written by Marie-Ève Caplette, Registered Dietitian and Half Your Plate Campus ambassador