Post written by Half Your Plate friend and RD Laurie Barker Jackman.
This year, World Fruit and Vegetable Day is on October 14th.  Let's celebrate by featuring some fruit and vegetables used in popular international cuisines in Canada – namely Asian, African, Latin American and Middle Eastern cultures.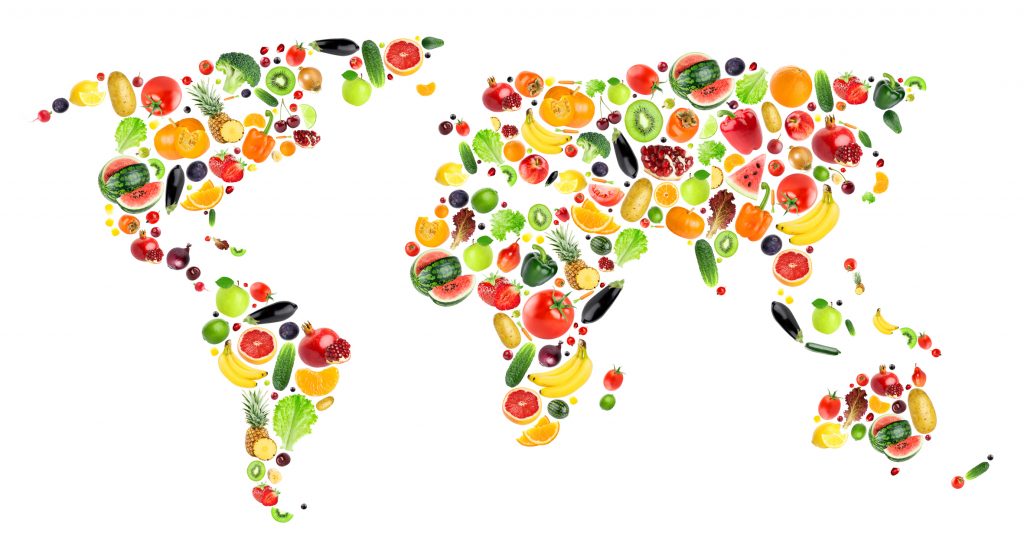 Asian cuisine is incredibly varied and delicious. A vegetable that is an integral ingredient in Asian cooking is the daikon radish. Daikon radish is a winter root vegetable that resembles a large carrot and has a milder flavour than other radish varieties. They come in a variety of hues (i.e. red, green and purple) with the most common being white with leafy green tops. They are native to Asia but are grown around the world.
Daikon is well-known as a prominent ingredient in traditional kimchi from Korea. It can be enjoyed both raw and cooked. The flesh is crunchy and juicy with a sweet and lightly spicy flavour. You can even eat the greens raw or add them in cooking. The greens taste peppery with a strong flavour that mellows when cooked.
Some tasty ways to add daikon to your meals:
Grate raw daikon over a salad
Add to stir-fries
Use in soups and stews in place or in addition to carrots
Steam daikon and enjoy as a side dish
Roast with cubes of potatoes and other root vegetables
Spiralize to make daikon noodles
Dip raw daikon in hummus or guacamole for a crunchy snack
Plantain is a staple in Africa's Western, Eastern, and Central regions. It looks like a banana, but it's longer, has more starch, and a thicker skin. Plantains are much more versatile than a banana and are usually cooked before eating.
As the plantain ripens it becomes sweeter and its colour changes from green to yellow to black. Plantains can be cooked at any stage of ripeness. When unripe, they can be fried to make chips or cooked and eaten as a part of a meal. When they are fully ripe, they taste similar to a banana but not as sweet. Many prefer them cooked at this stage as well.
Plantains are very versatile and usually inexpensive. They can be used in a variety of dishes from appetizers to desserts. Think of cooking plantains as you would potatoes. Peel them and then bake, fry, grill or steam.
Delicious ways to enjoy plantain:
Cut unripe plantain into slices and fry for plantain chips
Fried unripe plantains also taste great as a side dish with rice and beans
Baked, ripe plantains taste sweeter and can be served as a dessert
Leave the skin on, cut into chunks and boil for about 15 – 20 minutes. Remove skin and use in a soup or stew as a substitute for potatoes, or enjoy with scrambled eggs and salsa
A tasty root vegetable to try that is commonly used in Latin American cuisine is jicama. This round root veggie has a subtly sweet taste. It has been described as tasting like a cross between a raw potato and a water chestnut.
You can enjoy jicama raw or cooked. To prepare, you simply cut off the root and base, then slice the skin from the sides. The white flesh can be cut into slices or cubes. You can then incorporate into dishes that need a bit more flavor and texture.
Great ways to enjoy jicama:
Grate and toss with shredded cabbage and carrots for a slaw
Cut into matchsticks for a crunchy snack or add to a stir fry
Enjoy it raw with a fresh squeeze of lime and a dash of chili powder
Add to a fruit salad for extra crunch
Roast to make jicama fries
Middle Eastern cuisine is all about local ingredients coming together with herbs and spices to excite your taste buds! Eggplant is the most favoured vegetable in Middle Eastern cuisine. This versatile vegetable comes in a variety of sizes and colours, with the most common variety being the glossy purple, teardrop shape. Once cut, there is a white meaty flesh with a cluster of seeds. Eggplant naturally tastes a little bitter, so a common practice is to sprinkle it with salt and let it sit for 30 minutes. This will draw out some of the bitterness and prevent it from absorbing too much oil when cooking. You can roast, bake, steam or sauté eggplant. Eggplant has a wonderful texture and can be used in a wide variety of recipes, here are some ideas:
Make homemade Baba Ganoush by puréeing roasted eggplant, garlic, tahini, lemon juice and olive oil – serve with your favourite veggies
Sauté or stir-fry chunks of eggplant in olive oil and serve it as a side
Cut an eggplant lengthwise into thick slices and grill them – they taste great in a sandwich or burger
Slice eggplant into rounds, dip into beaten egg whites, then in breadcrumbs, sprinkle with Parmesan cheese and bake until tender
Slice an eggplant lengthwise into thin slivers and use in lasagna in place of noodles
This is just a small taste of the delicious produce to explore from around our great world. What's amazing is that we don't have to look further than our local grocery stores and markets to enjoy an amazing selection of international produce. It is a great way to celebrate World Fruit and Vegetable Day and try something new.