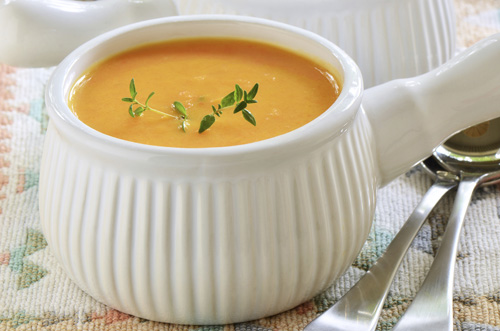 Buying in season fruits and veggies will help you stick to your budget over the holidays.  But what do you do with all that in season produce when you've got it?  Well fill half your plate of course! Check out some of our favourite recipes that use up your in season produce to help you out.
Butternut Squash
This easy salad uses delicious seasonal butternut squash but you could use any squash you have handy!
For a simple fool proof way to roast butternut squash with sweet cinnamon and apples check out this video from #halfyourplate Ambassador Chef Michael Smith.
Nothing warms your soul like a beautiful carrot and squash soup.
Slow cooker + butternut squash + lentils make an amazing dal to come home to! From blogger friend The Girl on Bloor.
Cabbage
This spiced up cabbage and garlic pasta is a perfect way to use the last of the large head in the fridge.
Looking for a holiday side?  How about cranberry braised cabbage from Ambassador Chef Michael Smith!
For a unique salad try this crunchy kohlrabi and cabbage slaw at your next get together.
Japanese style pancakes are loaded with cabbage, green onion and bacon for a delicious savory meal.
A good soup is a great way to use your cabbage.  Try this corned beef and cabbage soup from blogger friend Noshing with the Nolands.
Carrot
Looking to fill half your plate on meatless Monday? Try these colour and flavour filled carrot chickpea burgers.
Adding veggies to your pancake adds loads of nutrition and big flavour to your breakfast.  Try these carrot apple pancakes!
Every good party needs a tasty dip and we've got just the right one for you.  Roasted carrot dip is bright and delicious.
Blogger friend Alex Cuisine has a delicious carrot and leek soup that will get you through the week!
Potato
One of the most satisfying ways to fill half your plate is with an old fashioned loaded twice baked potato from Ambassador Chef Michael Smith.
Here's another great meal in a pan from Chef Michael Smith – red and yellow potato hash. Adding an egg makes this a full meal!
Apple
This apple blueberry compote is perfect served up with yogurt for a great breakfast.
Simple applesauce is a staple to have in your fridge.  Use it as toppings or when you need a quick snack.
This half your plate side sits perfectly beside a simple pork, chicken or fish dish – leek and apple compote.
Did you know you can make your own apple chips?  We love this totally simple recipe from blogger friend The Busy Baker.
Let us know what your favourite in season recipes are!