Written by Prairie-based, Professional Home Economist Getty Stewart.
Enjoying all our gorgeous summer produce? Wish there were a way to make summer last? There is! Save those summer vibes by preserving your favourite fruits and veggies to enjoy all year long. Get them while they're at peak ripeness and lock in their amazing flavour, colour and nutrients.
Here are five ways to preserve produce so you can make the most of the season and save a little money this fall and winter.
1. Freezing
Freezing is one of the easiest and most convenient ways to preserve fresh produce.

To freeze fruit, simply wash and dry before putting in an airtight freezer bag. For free-flowing fruit, freeze in a single layer on a baking sheet before transferring to a freezer bag.

To freeze vegetables, do the same just add a blanching step. This is where you briefly immerse vegetables in boiling water to ensure they keep their colour, texture and flavour for a long time.
For step-by-step instructions check out our Home Freezing Guide.
2. Drying
Drying is one of the oldest ways to preserve food. It removes 80-95% of the moisture using a combination of warm temperature and air circulation. This makes food lightweight, compact and shelf stable.
Dry fresh herbs like mint, rosemary, thyme and oregano by hanging in a warm, dry space with good air circulation. You can also string up hot peppers and air dry them as well.
Use an oven on low temperature or a dehydrator to dry fruit or make homemade fruit leather. Once done, they make excellent snacks to go. Give these dried apple rings or this fruit leather a try.
Vegetables or mixed foods like soup or salsa are best dried in a dehydrator. They require some prep work and need to be reconstituted before eating. For details read Twelve Tips for Dehydrating Food.
3. Canning
Canning is a great option when you want to store food on your pantry shelf. It requires a little more time and equipment, but is much easier than most people think. If you can boil water, you can can!
Canning preserves food by killing bacteria with high heat and sealing jars to prevent new bacteria from re-entering. There are two safe methods for canning at home, hot water bath canning and pressure canning, each with specific uses as shown in the chart below.
If you're new to canning, try some of these small batch hot water bath canning recipes.
Dill Pickles
Pickled Beets
Tomato Salsa
Apple Sauce
Hot Pepper Rings
To can vegetables or other low acid foods consult the National Center for Home Food Preservation for safe pressure canning recipes.
4. Jamming
Making jam is an easy and delicious way to preserve the flavour of summer fruit. Did you know you can make a batch of low sugar, no cook freezer jam in less than 30 minutes? It's true! With so many options available, it's fun and easy to make small batches of unique jams and jellies. Just be sure to follow whatever recipe you choose and use the specific type of pectin or thickener listed. And, for shelf stable jams use a hot water bath process to keep those jars safe.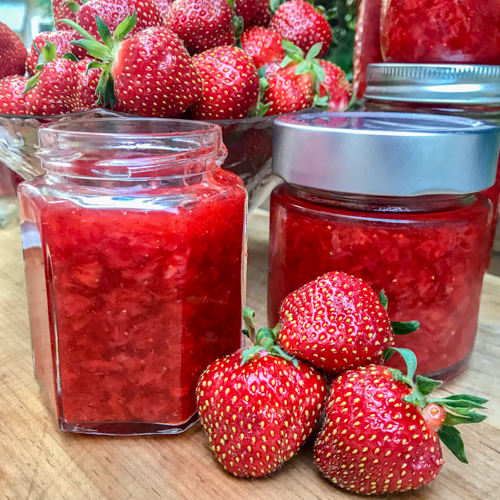 Here are some favourites to try:
Strawberry Freezer Jam
Grape Jelly
Hot Pepper Jelly
Chia Seed Preserve
Classic Peach Jam
5. Quick Pickling
Refrigerator or quick pickles are vegetables marinated in a vinegar-based brine and stored in the fridge. They are "quick" because they take less than fifteen minutes to prepare, do not require any additional processing and disappear quickly because they're so tasty.
Vegetables ideal for quick pickling include cucumbers, green beans, onions, beets, carrots, cauliflower, hot or sweet peppers and red or white cabbage. You can add a variety of herbs and spices for unique flavour profiles. And if you're feeling really inspired, try pickling fruit too!
Ten Steps to Refrigerator Pickled Veggies
Easy fridge pickles
Pickled Pears
Time is ticking! Get those gorgeous summer fruits and veggies now, then show us how you're preserving them. Share your photo with us on Instagram using the hashtag #halfyourplate.
About the author
Getty Stewart is a Professional Home Economist, speaker and writer sharing tips and recipes for enjoying local, seasonal homemade food. You can find her at www.gettystewart.com.