Soups are quick to cook and so comforting. Here are three basic rules for a soup to be satisfying enough to qualify as a full meal.
1- Stock up on veggies
Eating vegetables in a soup is a good way to easily fill half your plate at mealtime. Squash, carrot, leek, kale, green peas, corn… Just about every vegetable will be good in a soup. There are no shortage of choices!  In addition, soup is an opportunity to give a second life to veggies nearing the end of their life. And if you're running out  of time,  you could opt for pre-cut vegetables, sold at the grocery store.
2- Add enough protein
To be supportive and nourishing, a meal should contain at least 15g of protein. That way you'll feel full until your next snack.  For example, you could add shrimp, leftover meat (beef, chicken, pork…), eggs, tofu or legumes (lentils, chickpeas, white beans…) to a vegetable soup.
3- Don't forget whole grain products
Whole grain products, or starchy ones, contain fibers and other nutrients that promote satiety. You could boost your soup with brown rice, pasta, potatoes, sweet potatoes or barley, for example.  If you can't add these to your soup, you could supplement your meal with a slice of whole grain bread, or a few crackers.
Soup for 1
If you are home alone, soup is a great option, as it freezes very well. I recommend you make 4, 6 or even 8 portions, and freeze the portions to have a full meal you can reheat quickly. Very useful for lunch or on a busy weeknight!
Vegetarian soup
6 portions
Ingredients
1 tbsp olive oil
1 onion, chopped
3 garlic cloves, chopped
2 carrots, sliced
2 celery stalks, sliced
1/2 cup frozen corn
4 cups low-sodium vegetable stock
796 ml canned diced tomatoes
1/2 medium cauliflower, cut into florets
1/2 cup pearl barley, dry
2 cans of 540 ml white beans, rinsed and drained
1 bay leaf
1 tsp Italian herbs
salt and pepper to taste
(optional) flat parsley
Directions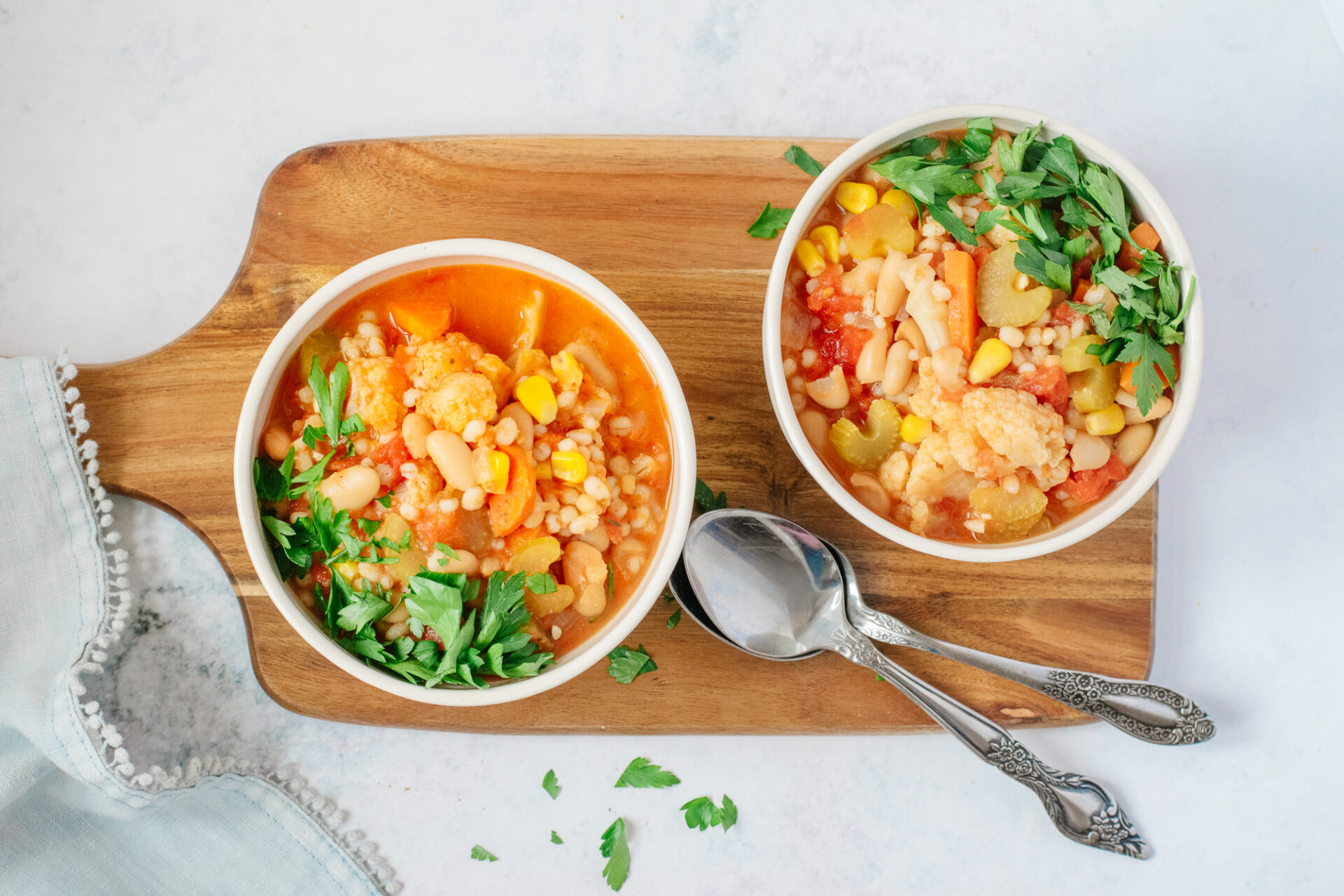 In a large pot, heat olive oil over medium-high heat. Add garlic and onion and cook for 3 minutes.
Add carrots, celery and corn.  Brown for 5 minutes.
Pour in the broth and diced tomatoes into the pot, then bring to a boil. Add cauliflower, pearl barley, white beans, bay leaf and herbs to season.
Simmer uncovered for 30 minutes. Taste and adjust seasoning as needed. Remove the bay leaf.
Other ideas
For more recipe ideas:
Written by Marie-Ève Caplette, Registered Dietitian and Half Your Plate Ambassador