Croquettes that the whole family will love, that's a winning recipe! Everyone knows you're supposed to be eating more veggies but sometimes the way you prepare them can get a bit repetitive.  Croquettes are an original and different way to get veggies on your plate.
To save you some time, you can prepare these croquettes over the weekend in bulk quantity. You can keep them in the freezer for up to one month. To reheat, defrost your croquettes and bake them in the oven at 375 F for 10 minutes or until they're heated through. A complete success from kids to adults!
 Makes : 4 Portions (12-14 croquettes)
Prep : 15 minutes
Cook : 20 minutes
total : 35 minutes
Ingredients
1 Sweet Potato
1 Zucchini
1 Carrot
2 Green Onions, chopped
2 Garlic Cloves, minced
2 Eggs, beaten
¼ cup Sharp Cheddar Cheese
1 tbsp. Grated Parmesan Cheese
¼ cup Breadcrumbs
¼ cup Fresh Cilantro, chopped
¼ tsp. of Hot Sauce (tabasco or sriracha, optional)
Salt and Pepper, to taste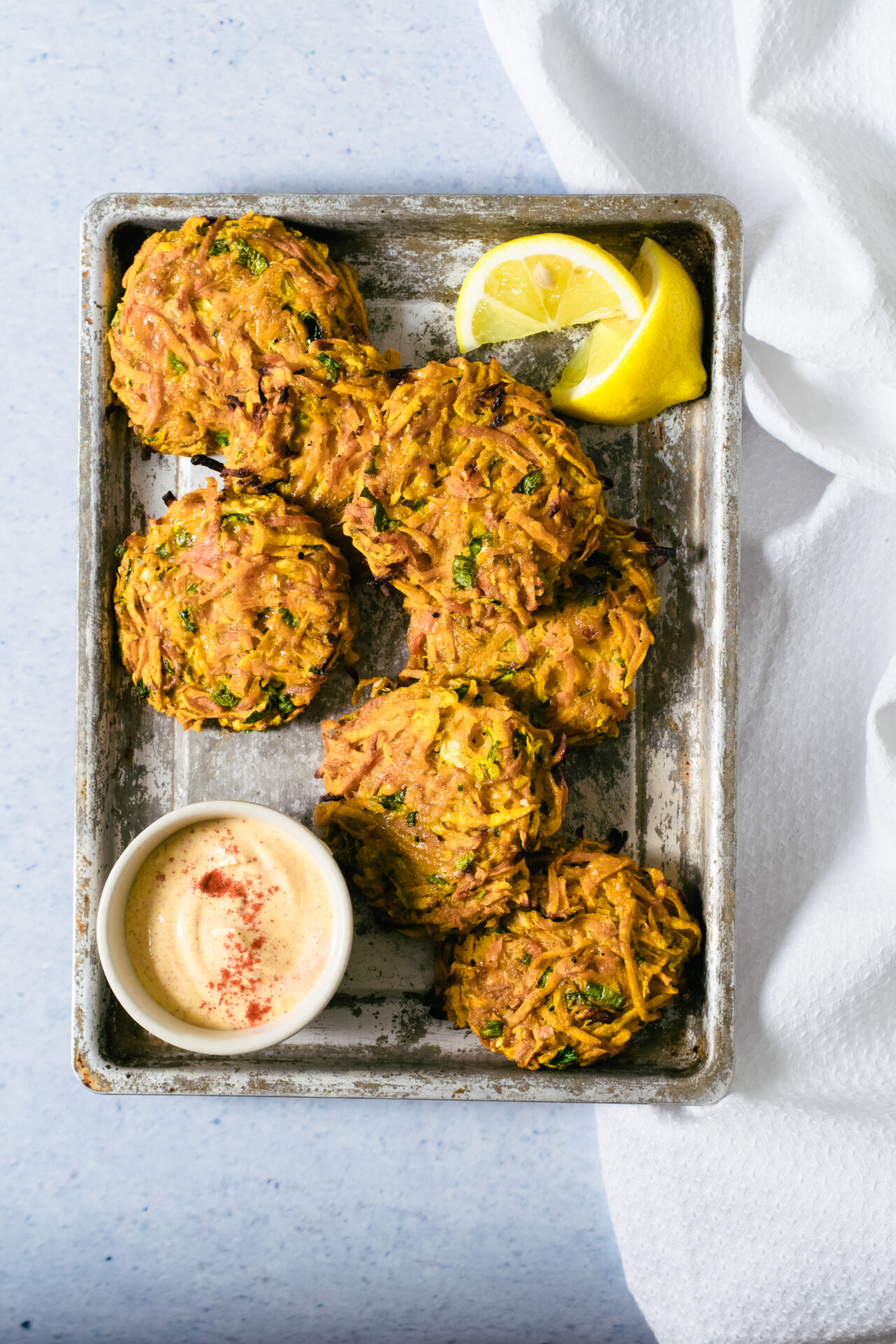 Directions
Preheat the oven to 400 F and cover a baking tray with parchment paper. Spread a little bit of olive oil over the paper.
Using a food processor or blender, blitz your sweet potato, zucchini and carrot. You'll have about 4 cups of grated veggies.
Squeeze out the excess water from the grated veggies through a cheese cloth.
To a bowl, add the grated veggies to the green onions, garlic, eggs, cheese, breadcrumbs, cilantro and hot sauce. Mix well.
Using your hands, form tight croquette patties from the mixture. Arrange them on your cooking tray and bake for 20 minutes. Flip them and bake for another 10 minutes.
Written by Marie-Ève Caplette, Registered Dietitian and Half Your Plate Campus ambassador