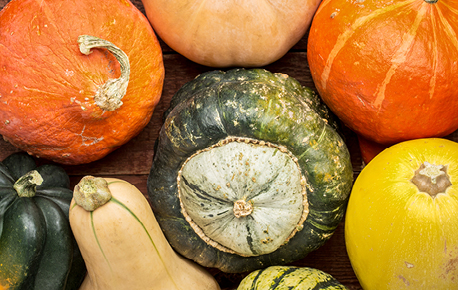 During the colder season, squash is in abundance.   This is the perfect time to expand your taste buds and try a new squash you may not have before!
Acorn Squash:  The acorn squash is shaped, you guessed it, like an oversized acorn.   Its skin is hard but edible.   The outside of an acorn squash is usually green but can also be found yellow and speckled.  The firm yellow-orange flesh in the inside is creamy and sweet.  The accord squash is perfect for individually stuffing!
Butternut Squash:  Butternut Squash has an interesting shape, a wide rounded bottom which extends into a thick neck. The skin is tan coloured and the inner pulp is fleshy and orange.  Butternut Squash weighs from 2 to 4 pounds.  It's an excellent source of Vitamin A and C.   Try this soul satisfying carrot and butternut squash ginger soup.
Spaghetti Squash: Spaghetti squash ranges in colour from very pale yellow to a darker yellow/orange. Spaghetti squash is a source of beta carotene.  The inside contains seeds and a fantastic flesh that when cooked is very similar to spaghetti noodles (hence the name).  While most recipes will suggest roasting the spaghetti squash, you can cook it in the microwave as well!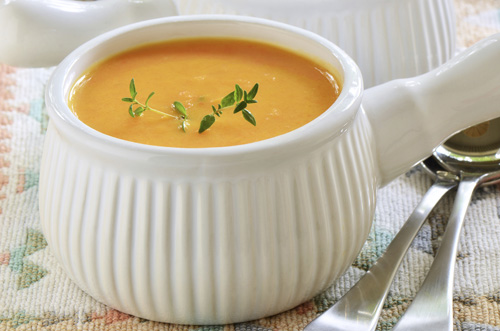 Kabocha Squash:  Kabocha squash has a texture that's a cross of sweet potato and pumpkin.  It's particularly used in Asia, commonly fried.  Its sweetness also lends itself well to desserts.   It can be roasted, steamed or pureed into soup.
Try any of these squash or give us your favourite not mentioned here!  We love seeing your #halfyourplate recipes!