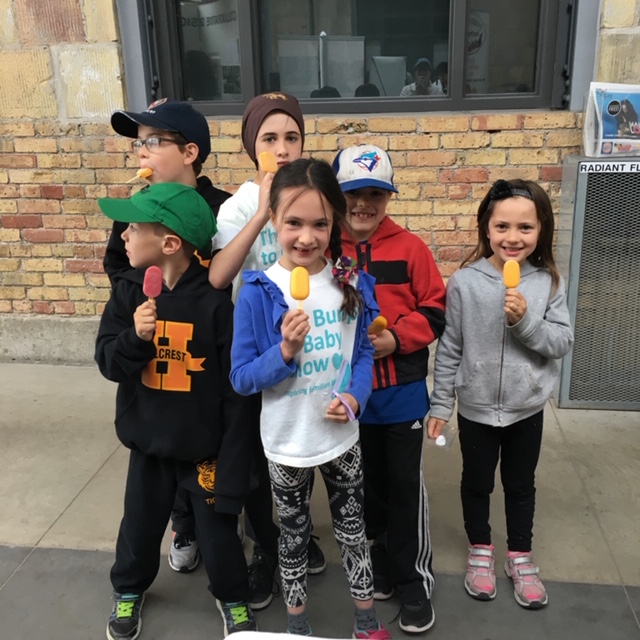 Here at Half Your Plate we love all the seasons because they give us different themes and opportunities to fill half our plate with different seasonal fruits and veggies but we can all agree that there is something so exciting about the warmer weather in spring and summertime! The craving for cool sweet treats proves a great change to try new sweet fruits and veggies. Today we check in with Jackie from Fressy Bessie for a delicious snack you can feel good about filling half your plate with and give you some other delicious recipes to try out.
When warm weather finally arrives, talk quickly turns to summer refreshments like ice cream, popsicles and freezies. And while frozen treats can certainly cool you down, focusing on high-sugar, low-nutrient treats is a missed opportunity. Why not chill out while fuelling your body with real veggie and fruit popsicles?

Fressy Bessie makes delicious-tasting ice lollies without the long list of extra ingredients most frozen treats feature. Our healthy lollies are made of certified organic fruit and vegetable purée—and that's it. They are free from artificial ingredients, added sweeteners, juice and water. They are the perfect size for kids and at only 25 calories a pop, Fressy Bessie ice lollies are suitable for many dietary restrictions. 

Our fruit popsicles make great, refreshing snacks after a busy park visit, sweaty soccer practice or backyard water fight. And they make a great accompaniment to one of our favourite summer side dishes: a fruit and vegetable salad. Cut up cucumbers, strawberries, grapes, and red pepper and put them in a big salad bowl. Add olive oil, basil leaves and lime juice, then top with sunflower seeds. It's delicious, refreshing and delivers a few of your daily servings of fruits and vegetables.
Here are other great ideas to fill Half Your Plate during these warm exciting days:
What are your favourite warm weather treat ideas?