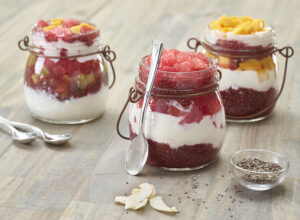 A nutritious snack is a great way to get some energy to your body and a great opportunity to have some fruits and veggies!  The ideal time to have a snack is when you're starting to feel a little hungry but not so famished that you would eat anything in sight.  That kind of hunger is when you start to make less than healthy choices.  Here are 12 different snack ideas that you can go to in good moments.
Have you used chia seeds? These little grains absorb liquid and become jelly. When you add pureed fruits you get the texture of jam which goes great with creamy yogurt.
Zataar cucumbers
Are you bored of your cucumber slices? You won't when you add zataar. This Middle Eastern spice mix has thyme, oregano, sumac and sesame seeds.  It's delicious!
Hummus and veggies
An excellent pairing to your veggies is hummus. Try this recipe for edamame hummus.
Avocado dip and veggies
Mash some ripe avocado with diced tomatoes and some lemon or lime juice for a creamy dip, perfect for dipping your veggies in.
Fruit and Veggie Smoothie
Having a smoothie is a great way to keep your hunger down between meals. More often than not we use fruits in our smoothie but adding veggies can also be delicious and nutritious! Here are a few recipes to get you started.
Energizing duo
Fruits and nuts together make an energizing duo, they each bring different nutrients to the table. You can make your own trail mix by starting with the nuts you have on hand and your favourite dried fruit. Bonus; this snack is practical since it doesn't need to be refrigerated. Bring some along with you wherever you go for a satisfying snack at any moment!
Overnight oats
Overnight oats don't require any cooking time. You can either eat them for breakfast or pack them into Tupperware for a snack later.
Avocado toast
Making avocado toast is as simple as adding some slices or mashed avocado to a piece of toast and adding your favourite toppings like cherry tomatoes, feta cheese, radishes or roasted chickpeas. Change your toppings based on what's in season and you'll have endless combinations. Try some of these ideas.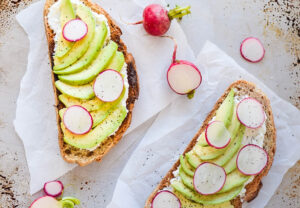 Fruits and nut butters
Spread peanut butter on slices of apple, pear or bananas. Simple and delicious!  You could also try it on celery sticks for a sweet-salty combination.
Popsicles 
There's nothing better than a Popsicle to cool down on a hot day. Try this fresh fruit recipe.  Have fun by switching up your fruit combinations like adding mango, pineapple, blueberries, raspberries, etc…
Frozen grapes
Freezing fresh grapes is a simple refreshing ideas! They will be very appreciated on a hot day.
Fruit skewers
Since we eat with our eyes, presentation is very important. By simply sliding fruit on a skewer you create a brand new snack! For an even more satisfying snack try alternating the fruit with cheese cubes or energy balls.
What's your favourite snack? Get inspired by our snack Pinterest board!
Written by Marie-Ève Caplette, Registered Dietitian and Half Your Plate Campus ambassador