As the weather drops and the leaves change colour we look to more comforting fruits and veggies to keep us warm. And what's more delicious and rich than butternut squash?  This winter squash has an interesting shape – a wide rounded bottom which extends into a thick neck.  The skin is tan coloured and the inner pulp is fleshy and orange.  Its weight ranges from 2 to 4 pounds.
When selecting a butternut squash it should be hard to the touch.  You can store it like you would a potato, in a cool well ventilated dry spot.  They can last 2 to 3 months like this.  Once you cut the squash, wrap in plastic and store in the fridge.
A ½ cup of butternut squash is an excellent source of Vitamin A, C and fiber.
Butternut squash has a fantastic creamy texture once cooked and makes all kinds of delicious soups and side dishes!  Here are some of our favourite recipes:
Squash Pasta Al Forno. Squash is a perfect match for pasta in this meatless dish. Whether you enjoy it on it's own or as a sidedish, squash makes this sauce sweet and savoury all in one bite.
Squash and Gnocchi Pasta. Lightly fluffy potato gnocchi are paired perfectly with butternut squash in this skillet sauced dinner. Enjoy it on its own or serve it as a unique side dish. For a heartier vegetarian dinner be sure to stir in some cooked chickpeas or your other favourite beans.
Carrot and Squash Ginger Soup. This soul satisfying soup freezes beautifully so go ahead and make a few batches!
Mushroom and roasted Squash Soup. This rich tasting soup is full of delicious squash flavour and the luscious texture of mushrooms. You can stir in the mushrooms or serve them on top of the soup for added flair.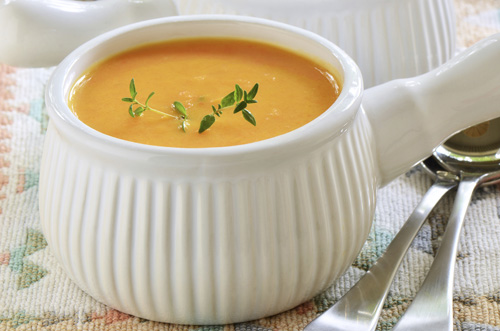 Do you have any favourite butternut squash recipes? Stay tuned for a delicious butternut squash recipe from our favorite Chef!