Toss some protein and assorted veggies onto the grill for a quick and filling summer dinner!
In a hurry? Grab a bagged salad and add protein for a quick dinner.
Quinoa has tons of protein and pairs well with all kinds of veggies. Make a big batch and store it in the fridge. Add assorted chopped veggies or salad and you have a delicious lunch or dinner. Try our Fresh Beet and Quinoa Salad or our Vegetable Confetti Quinoa.
Grab fruits and veggies that are in season. They're more affordable and you may just end up loving something new!
If you've got extra produce why not preserve it!  Pickle your cucumbers, can your tomatoes or turn your peaches into chutney.  Preserving your extra produce means none of it goes to waste and you can have a taste of the summer all through the year. Try our easy fridge pickles or this delicious peach chutney recipe.
For a quick lunch go for this Mediterranean Tuna Salad. It's packed with veggies and the addition of canned tuna means you don't have to warm up your kitchen on a hot summer day.
Add fruits and veggies to your water.  It's so important to stay hydrated in the summer and when we drink water we just love to infuse it.  Do you have orange peels or lemon rinds leftover from a recipe?  Throw them into your infuser for a subtle citrus flavour.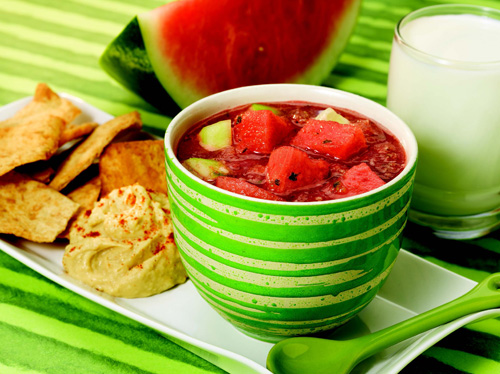 Try adding a delicious coleslaw! Slaws are easy, flavourful, and make a great addition to any meal. You can also use slaw as a burger or hot dog topping for a refreshing twist on the traditional. Try this Crunchy Kohlrabi and Cabbage Slaw or Rainbow Coleslaw Salad.
Too many zucchini or peppers growing in your garden? Stuff them! Stuffed zucchini or peppers are a perfect way to enjoy seasonal flavour. Try these Stuffed Zucchini Boats or these Lentil Stuffed Peppers.
Another delicious way to use up your extra produce is to dehydrate it!  Makes for a fantastic snack.  You can dehydrate your berries or big fruit and take with you on a hike.  Or try adding them to your baking or your salads when you need a kick.   And you don't even need a dehydrator to do it!
Cook root to leaf.  The best way to make your summer produce go the mile is to use it from head to toe.  For example, carrot tops make great sauces.