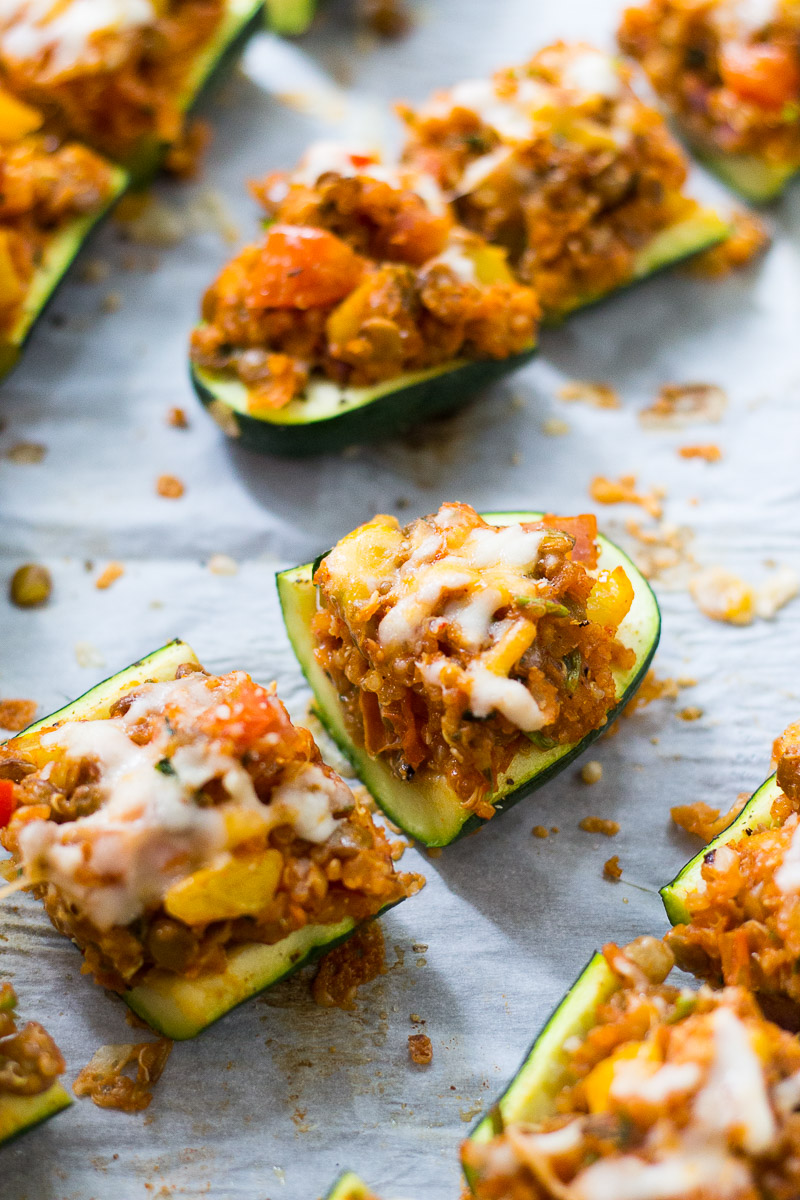 Post written by Half Your Plate friend and RD Laurie Barker Jackman
The key to a healthy diet is getting variety in the foods we choose.  We know that when we eat a wider variety of foods, we are more likely to meet our nutrition needs. Trying and enjoying new foods can also expose us to new tastes and textures and even teach us about different cultures.  A great way to add diversity to your eating plan is by exploring foods from different cultures around the world. This can makevarying foods much easier and a lot more fun getting dinner on the table!
Enjoy Mexican Monday with Mexican-Inspired Stuffed Zucchini Boat Bites from halfyourplate.ca. These are gluten-free, vegetarian and packed with flavor.
If you would like to explore a popular fruit used in authentic Mexican cuisine, why not try a tomatillo? Tomatillos are  small, round fruits that have more flavour when they are green and unripe. They have a bright, lemon-like flavour making them an excellent complement to salsas and other Mexican dishes.  Want to learn more? Check out Half Your Plate's Veggies from A-Z on tomatillos.
Get a taste of Thailand with a Healthy Pad Thai featuring spaghetti squash!
We have swapped in spaghetti squash and spiralized zucchini for the traditional noodles in this Pad Thai. This swap makes the dish rich in fibre and vitamins while still having the Thai flavour that we know and love.
Want to try a staple fruit in Thailand?  Reach for dragon fruit. The taste of this beautiful fruit has been compared to a combination of a kiwi and a pear. Enjoy this fruit paired with fish or in a fruit salad, smoothie, or smoothie bowl. Want to learn more?  Check out Half Your Plate's factsheet on dragon fruit.
How about heading to Greece with this delicious take on a Greek Salad.  We added a twist on this traditional favourite by adding sweet and crunchy watermelon.  This salad would be a delicious light lunch or a great accompaniment to some chicken skewers on the barbeque.
If you are looking for an easy snack that is packed with nutrition and a favourite in Greece, try figs! They are a unique fruit that resembles a teardrop. Figs are usually eaten whole, skin and all. There is no need to cut the fig into smaller pieces or to remove the seeds. In Greece they are enjoyed year-round as a snack and added to salads. Learn more on Half Your Plate's Fruits from A – Z.
Escape to Hawaii with this watermelon poke bowl. This raw fish salad is one of our favourite Hawaiian-inspired recipes . Watermelon bowl is rich in omega-3 fats that are good for your brain and heart. The word "poke" means "to slice or cut" in  Hawaiian.
Fruits in Hawaii are abundant and delicious. A popular one is lychee. Fresh lychees have a wonderful floral aroma and a bright, crunchy texture. Don't let its thorny outside scare you. Just remove the stem and peel, and enjoy the sweet fruit inside. Remember that the shiny brown seed in the middle is inedible. Want to learn more? Visit Half Your Plate's Fruits from A-Z.
There are so many benefits to explore when increasing the variety in the foods we eat.  As you can see, HalfYourPlate.ca can help you explore flavours from around the world. So what new food or recipe will you try?