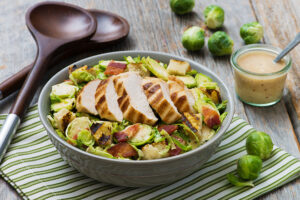 May is National Salad Month and we absolutely love that!  A simple salad is a perfect easy side to fill half your plate at lunch or dinner, and a hearty salad with a protein can serve as a complete meal.  Any combination of fresh or cooked fruits and veggies and your favourite dressing is a great way to enjoy a meal – and oh so healthy!
Chicken and Brussel Sprouts Salad: If you're looking for a spin on coleslaw, try this tasty combination for lunch with an Asian twist!
Brussels Sprouts Chicken Caesar Salad: Using shredded Brussels sprouts adds a healthy and flavourful spin to this classic favourite.
Roasted Carrot, Pepper and Chickpea Salad:  This combination of peppers and carrots is not only colourful but refreshingly tasty with a lemony hint of sumac.
Prosciutto Grilled Peach Salad: Because we all love sweet and salty! Thinly sliced prosciutto slices wrapped around ripe peach halves add the perfect finesse to this salad. Serve this with a drizzle of aged balsamic vinegar.
Cucumber Tomato Rice Noodle Salad: Refreshing take on a pasta salad for warm days with rice noodles, tomatoes and cucumber. Add shrimp for a light lunch or dinner.
Roasted Beet Salad with Orange and Feta: Colourful and perfect to take on your next family gathering. This salad has sweet, salty and peppery all in one dish!
Grilled Zucchini and Smoked Salmon Salad: This great salad will leave you feeling full and satisfied all afternoon!
Niçoise Salad with Anchovy Dressing and Fresh Basil from Chef Michael Smith: Toss together these amazing flavours and skip the traditional fussy arrangement of the ingredients.
Spaghetti Squash Salad from Chef Michael Smith: We absolutely love spaghetti squash and having a delicious salad from this veggie is just great!
This list on buzzfeed had us drooling over our computer screens!  These 24 salads will make you feel amazing and full!
Let us know what your favourite salads are and how you celebrate national salad month!